SoapisticatedSuds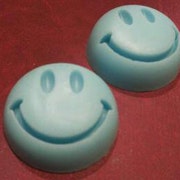 Sorry we don't have anything like that.
About
I keep expanding my creativity and my products
About Ana:
All my soaps are made with care and expertise, start to finish. My premise is I make all my soaps myself. I'm a one person small business and prefer to have full control over what goes into my products. Soaps is a passion of mine. I love all the formulation, designing, making and presenting soap that is conditioning, skin-loving, smells good, feels great, and looks beautiful. I believe my soap is and does all of those things and I would love to share it with you! Please be my guest and browse my shop and see the assorted handcrafted soaps.
When I first started making soap I quickly saw that everything and anything had potential to be soap. Like any type containers can be the mould to form a soap. I would be at a restaurant asking for a box for leftovers and look at the box thinking this would be a cute box for packaging my soaps. My head would spin with so many wonderful and exciting thoughts. At times I felt like a mad scientist rubbing my hands together and making the sounds with a grin on my face as they tend to do.
As most soapmakers will tell you, making soap is an addiction. I got the bug. The hunt for the best ingredients, the planning of new designs, scents, shapes, the quest to formulate the best soap, and finally the magic of oil being turned into soap. The feel of lather on your skin are all things that make you want to make more. Soapmaking is a creative outlet and it's fun and difficult all in one. In soapmaking there are an unlimited number of variables to consider and play with. I've researched extensively to learn and consider the safety and quality points necessary to make my creations the best they can be. I keep my prices low because I want to keep things fair and I just enjoy being an artisan soap maker who loves to share with others. In other words, I'm happiest when I see my customers happy.

What is Handcrafted Soap?
Handcrafted soap is made by an artisan soapmaker, often in small batches with a stickblender and a scale being the only electrical appliances used in the process. The soap is typically cast in any size, shape mould where it sets up and becomes firm. It is then cut into individual size bars or popped out of the mould, which are placed on a curing rack for 4-6 weeks. During the curing time water evaporates from the soap making it hard and longer lasting. The lather and general feel of the soap also improve with cure time.
From weighing out oils to handing the wrapped and labeling bars to the customers, each of my soaps goes through a process of at least 12-20 operations - all done by hand.
One of the main differences between industrially manufactured soap and handcrafted soap in the glycerine content. In industrial soapmaking the glycerine is removed. This makes the soap hard and long-lasting but it also means that the skin conditioning benefits of the glycerine are lost. Industrial glycerine soap is made like any other industrial soap, but at the end of the process glycerine is added back to the soap - together with copious amount of alcohol for a transparent look. In handcrafted soap all the glycerine is retained making a for a gentle, conditioning product.
Well-made handcrafted soap is formulated with a specific purpose in mind. Different oils, amount and additives all bring different characteristics to soap and the artisan soapmaker will compose a blend of oils and additives suited for the intended use. Bath soap is formulated to be mild and conditioning for the skin. Because handcrafted soap can be made in small batches it is also possible to custom formulate the soap to meet the specific needs and preferences of an individual user.

Why choose handcrafted Soap?
Our skin is our largest organ and we need to take good care of it. Using well-made handcrafted soap is a gentle way of caring for our skin while using ingredients from nature and steering clear of extra fillers, preservatives etc. Handcrafted soap is good and feels good and that may well be reason enough.
But our choice of handcrafted soap also makes us part of a highly respected craft with ancient traditions. handcrafted soap has been made, used, and highly valued for centuries and it is a privilege to be able to continue that tradition. By choosing handcrafted soap we also support the individual artisan soapmaker who generously added hard work, high standards, experience, well-learned knowledge, artistic flare, and passion to each and every bar of soap made. A handcrafted bar of soap is always a reflection of the person and personality behind it.

Custom Books
I do also love making custom books for that special someone in your life. It's a rare craft and not many make these this type of thing because of the length of time it takes to create, mark, and complete. I can do words (names), dates, and some objects. I have quite a few listed on my Etsy shop. Although it's extremely time consuming from start to finish, it's enjoyable to me that someone is going to love my creation as much as I do.
Shop members
Ana LeBlanc

Owner, Chief Designer

I grew up in the Northeast and have been making high quality handmade items for over 10 years. My husband has a busy career and the kids are older now so that left me with a lot of time to explore interesting and creative things.
Shop policies
Last updated on
August 8, 2015
Welcome to my shop, I'm really glad you're here. Please browse the selections and come back often because I am constantly adding new things.
Accepted payment methods
Payment
Payments are can be made via Etsy Direct Checkout (which covers all major credit cards) plus Etsy gift cards and PayPal.
Shipping
Orders ship within 1 - 3 days of order placement. To keep prices low, shipping methods are US Postal Service First Class mail or UPS ground. I can provide a tracking number if you'd like to have one.

I can also do combined shipping for purchases of multiple products. Please send a message to me if you'd like to get a quote based on a certain number of items. I would never want shipping to be a barrier to enjoying your selections. PS I can do gift shipping too, just send me a message with the details.
Returns and exchanges
These are personal products and for sanitary reasons, I can not accept returns. Please feel free to ask as many questions as you'd like - I truly want you to have complete information so you can be confident when placing an order.

With all that in mind, the world is never trouble free and if something unforeseen does happen, please contact me right away. I'm sure we could work out a mutual solution.
Additional policies and FAQs
All my products are made in small batches and as such, there can be slight variations in color and size. I do not mass produce so please be patient with the custom nature of small batches. In exchange you'll get products with a warm look and feel.

The ingredients are listed with each and every product. Please be sure to read them carefully so you can avoid purchasing anything that you are allergic or sensitive to.
Average item review
(119)

Very nice soap will buy more
Feb 23, 2018 by dlreynaud



Very cute soap and came in great time
Jan 13, 2018 by Holly Hayes

I absolutely love these cute soaps. Ana was helpful and quick to respond to messages and it took no time to process and receive my order. She was even willing to order the scent I wanted but I couldn't wait to get my hands on them and picked from what was available instead. Aside from being cute the soaps smell great! Can't wait to hear what everyone else thinks about them.
Jan 5, 2018 by Eve

Huge hit for stocking stuffer!!!
Jan 2, 2018 by emiebee

Huge hit for stocking stuffer!!!
Jan 2, 2018 by emiebee

My son loves dinosaurs. This soap was perfect for him.
Dec 27, 2017 by donnahornschemeier

Smells great! Gave as a gift and person loves it.
Dec 27, 2017 by donnahornschemeier

Quick shipping, the owner is very helpful and friendly too :)
Dec 22, 2017 by Erica Syverson