SucculentCuttings4U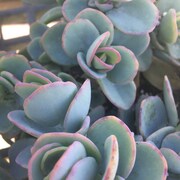 Sorry we don't have anything like that.
About
I fell in love with the growing of succulents and then learned how to create projects with the cuttings. A journey that has now inspired so many.
A mom of 4, with her last gone off to college, I went to a succulent class. Killed many of leaves trying to procreate succulents. Finally mastered it and thought maybe to sell a few to help with college costs. I never thought that selling cuttings would actually help others also to be employed. Not only are the cuttings used for weddings, but others have used the cuttings to create projects to sell. I'm truly touched to be a part of so many projects, weddings and porches. I hope to inspire you to do what you love ❤️
Shop members

Production partners
June McSherry

Coto De Caza, CA

Me, myself and I, I create branding, do all packaging and shipping, marketing, as well as all growing of cuttings and selection of cuttings for my customers. I take all photos as well as write thank you notes to all of my cutomers. This is my full time passion and truly love what I do.

So nice and helpful!
3 days ago by Dani Sicotte

Wonderful succulents that were absolutely gorgeous on my wedding cake! Thank you so much!
4 days ago by Lila Calvin

So many compliments! I placed the order the week of the event and received delivery within a few days. Nicely packaged with instructions. Very happy customer... from start to finish!
7 days ago by Stephanie Trejo

Amazing customer service!!!! I was a little disappointed in my first batch of succulent cuttings for my cake but Jane quickly fixed the issue! My second delivery was exactly what I wanted and the cuttings were beautiful! And I still got it all in time for our big day! Thanks Jane!!
Apr 13, 2018 by Shelby McNutt

June was extremely nice, accommodating, and quick with my cuttings order. She provided me with pretty healthy cuttings, and even threw in some extras and skewers because she knew i was using them for a wedding. I contacted her very last minute and she messaged me back within an hour and then shipped my order out the very next day. All of the cuttings were in great shape and in a variety of sizes. My only tiny complaint, which I don't really blame June for, more my specific color palette and late ordering, is that I had a lot of aeoniums (that just aren't that great for wedding bouquets) and one specific color of echeveria. Again, I think it was mainly to due with my late notice though. I would 100% recommend June for any succulent needs you have and I will totally be ordering from her again.
Apr 9, 2018 by Miranda Lang

Apr 3, 2018 by Janelle Hockenbrocht

Mar 30, 2018 by jessicagreene38111

AMAZING as usual. I got more than 100 and a great variety. Definitely will shop again.
Mar 28, 2018 by Aysha Strawn

Just received our package for our upcoming wedding and the succulents are BEAUTIFUL! Customer service was amazing, we had many uses for the succulents and they hand selected them to work best for each project! Highly recommend!!
Mar 26, 2018 by rsullivan9995

These succulents were incredible!! And such showstoppers for a beautiful wedding design! Sitting alone, in bouquets, in terrariums....they were perfectly curated to my needs and quality was unmatched. My new go-to succulent source!! Thank you!!
Mar 22, 2018 by ebck1013