SucculentCuttings4U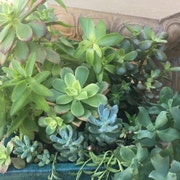 Sorry we don't have anything like that.
About
I fell in love with succulents and then learned how to create projects with the cuttings. A journey that has now inspired so many to create w cuttings
A mom of 4, with her last gone off to college, I went to a succulent class. Killed many of leaves trying to procreate succulents. Finally mastered it and thought maybe to sell a few to help with college costs. I never thought that selling cuttings would actually help others also to be employed. Not only are the cuttings used for weddings, but others have used the cuttings to create projects to sell. I'm truly touched to be a part of so many projects, weddings and porches. I hope to inspire you to do what you love ❤️

Got the most fantabulous cuttings evah; LOVE LOVE LOVE! Today, I checked some of them already rooting. Wheee! Thanks so much. Will be back for more very soon :)
9 hours ago by Leslie Crowley

Amazing beautiful succulents! Great customer service! She always asks what we are looking for and what colors we need. Love ordering from Succulentcuttings4u!!!
13 hours ago by quinlancatherine7

Thank you for sending us the succulent cuttings. This is my first time planting let alone planting succulents. I received information on how to help me step by step to plant in the boxes. Thank you for recommending the Hoffman products! I can't wait for our wedding to come up so we can display them! I'm very pleased. 😁
2 days ago by Addie Gonzales

Absolutely loved these succulents. They were perfect for our bohemian wedding. They last forever. Seller was so kind and matched the clippings to my wedding colors.
4 days ago by Alexis

We used these for our wedding favors. This was my second order and I foresee myself ordering more! Love this shop!!
4 days ago by Amber Eve

Sep 11, 2017 by Jolee Bingham

WOW, what an amazing seller!!! Right from the start, she was so responsive to all my questions and even sent along some extras to make my cake as special as it could be! The package showed up carefully wrapped, filled with beautiful, healthy succulents, and soo quickly! The succulents were PERFECT for my cake and everyone loved them--myself included! THANK YOU!!! <3 <3
Sep 11, 2017 by Gabrielle

This is such an amazing shop!! Quick shipping and BEAUTIFUL succulent cuttings. Not to mention this shop has the most AMAZING customer service! The shop owner contacted me almost immediately after my order to ensure she put together just the right color combinations for the project I had in mind. The box came beautifully packaged and I am just over the moon pleased. I am using the cuttings for my wedding favors and in the center pieces and they worked out perfectly!! I wish I could Upload a picture to show how beautiful everything was!
Sep 5, 2017 by Amber Eve

The package was amazing - it actually came in two packages. It arrived quickly and was very well packaged - nothing was damaged. There were even plenty of pups in the bottom that I scattered throughout to see if they will grow also. I am very excited to reorder.
Aug 28, 2017 by Aysha Strawn

These succulents are wonderful! They were easy to order and I was able to converse with the shop owner throughout the entire process of purchasing to make sure I got exactly what I needed. They arrived quickly and safely!
Aug 21, 2017 by Katie McDermott