SucculentCuttings4U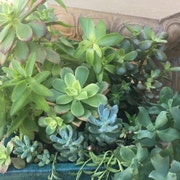 Sorry we don't have anything like that.
About
I fell in love with succulents and then learned how to create projects with the cuttings. A journey that has now inspired so many to create w cuttings
A mom of 4, with her last gone off to college, I went to a succulent class. Killed many of leaves trying to procreate succulents. Finally mastered it and thought maybe to sell a few to help with college costs. I never thought that selling cuttings would actually help others also to be employed. Not only are the cuttings used for weddings, but others have used the cuttings to create projects to sell. I'm truly touched to be a part of so many projects, weddings and porches. I hope to inspire you to do what you love ❤️

This shop was an absolute pleasure to work with! SO accommodating, responsive and was beyond patient and sweet helping me decide on my succulent colors, the amount needed and my indecisiveness ;) The succulents were stunning; and anything that comes wrapped in pretty tissue paper with a handwritten note shows me how much someone cares about their craft/products. Can't wait to have an excuse to order more!
7 days ago by Brittany Page

As usual, the seller did not disappoint. I requested a particular succulent and was not disappointed - it actually had several babies growing from it too. All succulents are healthy and packaged beautifully. This is my 4th or 5th order (I have an addiction) and I won't hesitate to order again.
Dec 6, 2017 by Aysha Strawn

The shop owner was very responsive and sent us perfect clippings for our beautiful cake. It was a great purchase experience!!
Nov 15, 2017 by Lauren Stratton

Constantly blown away by the customer service and the incredibly beautiful cuttings!! Thank you!!! They bring me so much joy!!
Nov 15, 2017 by Olivia Seal

WOW! I just placed my third or fourth order with June and I received my succulents just a day or two. She really outdid herself! The plants came in perfect condition and I am thrilled as I always am. June's prices are reasonable and succulents are so versatile and hardy. I may live in Wisconsin with cold winters, but my house is filled with succulents. If you love plants but don't have a green thumb, these are the plants for you. Once you have them, you won't be able to live without them.
Nov 14, 2017 by Kathy Thiel

I loved the succulents! Beautiful additions to my wedding cake. The seller was very accommodating and easy to work with.
Nov 11, 2017 by Youa Moua

Beautiful succulents and great communication from the seller! We ordered these about a month or so before my wedding and they contacted us for the color palette. The plants arrived exactly when we requested AND with extras! They looked amazing in my bouquet, the lanterns, the bouts...we put them everywhere! The whole wedding party got to take some home as a souvenir. The seller even contacted me later to see how the succulents were doing and she answered some care questions I had. I had a great experience and definitely recommend this seller!
Nov 8, 2017 by jessi cook

Nov 2, 2017 by stevietron

Oct 23, 2017 by Stephanie Hawk

Beautiful assortment of succulent cuttings every time. 💕💚💕
Oct 18, 2017 by stevietron