SweetReeRee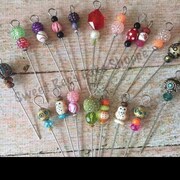 Sorry we don't have anything like that.
About
Hello my friends and Welcome! I am Maria, the woman behind "Sweet Ree Ree's" the inspiration to create these fantastic tools started with My Mother & Aunt. Years ago, they presented me with a beautiful, handmade set of Hor's D'oeuvre picks and I've used them in my entertaining ever since. One day as I was decorating a set of cookies, I needed a sharp tool to guide my icing into a tight corner, I looked around & saw my picks, grabbed one & I haven't looked back. I've also used them as a cake tester and as a stiletto, to guide my fabric through my sewing machine (I didn't want to sew my finger. Hahaha) I do hope you enjoy my handcrafted tools and are blessed by them as much as I am.
Shop policies
Last updated on
April 29, 2016

LOVE it! Used this scribe throughout the holidays while icing/decorating cookies. Thank you!
Jan 2, 2017 by Roni

Just what we were looking for
Oct 18, 2016 by Dulcinea Cuellar

perfect. Just what we were looking for.
Oct 18, 2016 by Dulcinea Cuellar

Mar 9, 2016 by CraftyKat23

Amazing!!!! Pictures do not even do it justice. What you receive it so bright and beautiful!
Mar 4, 2016 by samantha cedeno

Mar 3, 2016 by Jennifer Appiah

Mar 1, 2016 by Shawna Magbie

I love my scribe! Makes decorating so much more easier and it's adorable
Feb 25, 2016 by Alicia Galvan

Feb 13, 2016 by Megan Gunter

Love it!
Feb 13, 2016 by Claudia Palomino