TextileTreasuresCo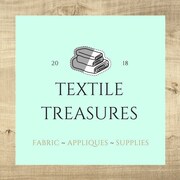 Sorry we don't have anything like that.

I have tried on two occasions to contact the shop with no response. I placed my order on August 5th and have never received it. I have requested a refund and have heard nothing.
9 hours ago by Melissa Cook

2 days ago by Darlene Reeder

Great choices, can't wait to get started. Thank you for the swift delivery.
5 days ago by Pam Hendricks

Love this fabric. Thank you so much.
Aug 7, 2018 by tamicanderson
I am so incredibly upset. I ordered this fabric July 25 and it's still not here August 5!!!!! I now have lost a client due to this. You should be ashamed of your work ethic. July 25 ordered and more than 7 days later it's mailed and it's still not here. Unbelievable
Aug 6, 2018 by anoushka leightley

Aug 3, 2018 by beth hargreaves

Love the fabric! Thank you for sending the right one and working it all out.
Jul 28, 2018 by Lisa Berglund

Great patch! Thank you for working things out.
Jul 28, 2018 by Lisa Berglund

This fabric is absolutely adorable. Thank you so much!
Jul 13, 2018 by Alice

I love it! Thank you! Fast shipping, but no shipping overage refund.
Jul 10, 2018 by Dina S