TheTubeFactory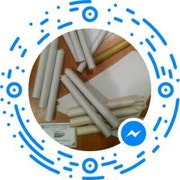 Sorry we don't have anything like that.
About
Find Tube Factory Tubes at The Regimental Quartermaster in Gettysburg, PA
Shop policies
Last updated on
May 25, 2016

Excellent again thank you keep up the good work
May 15, 2018 by Michael Scheib

Great fast service, items filled my every need and more. Thank you for such wonderful service.
May 6, 2018 by DENNIS CROWLEY

The paper is great, easy to roll but durable. Fast shipping too!
Apr 16, 2018 by Bradley Long

Great work! My husband loves them! All the work has been done and just have to fill with gun powder. Thank you!!
Mar 2, 2018 by Megan Elaine

Very quick shipping. Good quality wrapped with no glue or tape
Feb 21, 2018 by debbymc

Thanks for the order! It arrived very quickly and exactly as described. I will definitely be purchasing again!
Feb 5, 2018 by Robert Yowell

Jan 25, 2018 by Caleb Madden

Jul 18, 2017 by David Hulsey Jr.

An authentic arsenal pack and a big timesaver.
Jun 10, 2017 by justrobnj

Perfect for having extra rounds to carry during events in the bottom of a cartridge box, pockets, or haversacks.
May 30, 2017 by kuhnsy75