TinBadgeLeather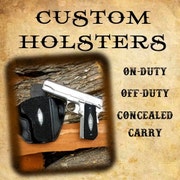 Sorry we don't have anything like that.
About
Tin Badge Leather
I dabbled in leather crafting years ago and have always been intrigued by it. I have spent the last 19+ years in law enforcement wearing duty-type gear with retention features. When I got out of patrol and took an investigator position, I began wearing pancake style holsters. I bought several off-the-rack holsters, but didn't find any that felt good to me. They were either too light-weight for daily wear, would break down fairly quickly, the cant wasn't right, or any number of other quirks. Also, the color selection was either black or brown with no embellishment or individuality. There's nothing at all wrong with plain black or brown holsters, but I believe if you're wearing your favorite pair of Elephant, Lizard or Alligator boots, why not have a matching set of gear for your favorite weapon? Call it what you will, but there's nothing wrong with being fashionable.

My philosophy is if you're going to spend hundreds and in some cases thousands on a firearm, why would you want to carry it in a $20 nylon holster or a mass-produced punched out leather holster from the local sporting goods or big box store.

Every leather product from Tin Badge Leather is constructed and shipped from my personal shop in Farmersville, Texas. I am a one man operation. This will assure you that personal attention is given to every piece that goes out.

Each of my custom holsters start out from a hide that is Hermann Oak 8-9 ounce (translation: heavy) vegetable-tanned leather. Hermann Oak is one of the premier tanneries in the good ole USA. I hand cut each custom holster from a pattern specifically for your gun model. The pieces are then shaped, stamped or tooled, dyed, glued, and then stitched either by hand or on a commercial Toro leather stitching machine.

During this process is when options such as exotic leather reinforcement patches can be added, either as a half- or full-length. Also any personalized touch that you want on YOUR holster can be done at this time.

Let me emphasize that this is a custom handmade holster just for you. One that you want to wear that not only protects and secures your weapon, but will also show your style and individuality while carrying it. This is the point of having a custom holster...

If you want anything that will set yours apart from the rest...just ask me! I enjoy this craft and always welcome a challenge to do something different.
Shop members


Gorgeous product. Thank you very much
Jan 20, 2018 by Daniel

Dale is an absolute pleasure to work with. Great communication and very accomodating. He is a true craftsman and I highly recommend his work. You won't be disappointed!
Jan 18, 2018 by dragon865

The holster is beautiful. The customer service is exemplary. The holster was received within a couple of days of ordering. I couldn't have asked for more all ways around. I'll be recommending Tin Badge and Dale to my coworkers in the department.
Jan 14, 2018 by Joseph

This is the second holster I have bought from Dale and they are top quality. I highly recommend Tin Badge Leather for any of your holster needs. Thanks Keith.
Jan 7, 2018 by Melissa Renken


Dale is terrific! He does above, and beyond to make his customers feel special. The holster has nice red stitching and is made to last.
Sep 5, 2017 by Sayra

I can't say enough awesome things about my holster. I am a purple girl all the way. I contacted dale and asked him if he could do purple and this is what I got. AMAZING!!!!! Fits my gun perfect nice and low profile to carry concealed. Perfect angle for me to draw with as well.
Aug 29, 2017 by Kristine Bollinger

Great custom holster from Dale. Made to my specifications. Cape Buffalo is unique! Fit and finish are perfect. Dale went the extra mile to get a mold for the LCP II and crafted this fine holster for me. I have purchased many custom holsters from Dale and have never been disappointed. I my opinion, the only place for a custom holster is working with Dale at Tin Badge Leather!
Jun 30, 2017 by jimwhitty

Dale has an incredible craft and I couldn't recommend him enough. He helped create a custom holster, which I will give to my brother as a gift for being the best man in my wedding. He did everything he could to create the custom holster I had in mind and it turned out beautifully. I'll definitely be a repeat customer in the future.
Jun 12, 2017 by Luke Sikorski

Superior craftsmanship and very fast delivery. Happy with all aspects of this transaction.
May 27, 2017 by Paul Briggs