UnquietStones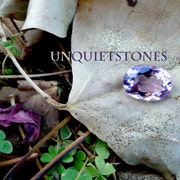 Sorry we don't have anything like that.
About
Unquiet Stones features original, vintage rings and high-quality, old stock gemstones.
I grew up as the child of a self-taught master goldsmith. My father created delicate, handmade rings set with glittering gemstones. He sold them at craft fairs such as Rhinebeck, at fancy big-city stores in Manhattan and in small towns all across the land.

My father's rings were photographed by Avedon, and appeared in Vogue and Bazaar. They adorned the fingers of those who hoped to capture a hint of beauty with a wave of their fingers, a glint of light, a bit of mystery.

In the early years, the stone setters came to our home to sit at their wooden jewelry benches; when they went home at night, I would find sparkling gemstones wedged in the floorboards of our old farmhouse. It was like magic.

My father passed away a few years ago, knocking at the door of 87, his mind still sharp and searching. He was many things; a writer, a poet, a photographer, a jeweler. One of his earliest gifts to me was a handmade silver ring, sprinkled with bright white-and-yellow enamel daisies on a midnight blue dome.

Now, I too am a writer by trade, a darkroom-bred photographer and an evolving metalsmith. I'm honored to follow in my father's footsteps.

Unquiet Stones offers vintage rings handmade in the 1970s and '80s by my father, from his original designs and molds; old-stock loose gemstones purchased in that era from established dealers in the diamond districts of NYC and Los Angeles and original, handmade designs created by me.
Shop policies
Last updated on
April 27, 2016
Welcome to UnquietStones!

Here you will find:

* Vintage sterling silver and 14K gold rings and jewelry in original designs, cast from hand-fabricated models and molds created in the 1970s and '80s

* High quality, semi-precious gemstones purchased from top industry dealers in the diamond districts of New York and Los Angeles

These original designs do not include any machine-made bezels, shanks or findings (pre-made components sold through catalogs). Therefore, you may expect to see tiny imperfections that contribute to the charm; this is a sign that you've purchased a truly handmade piece, created by a master gold- and silversmith in the USA.

Ring Sizes:

Please ensure when you purchase a ring that it is the correct size; I cannot re-size rings, although I may have the same ring available in a different size or stone.

If you don't know your current ring size, any local fine jewelry store can size your finger(s); or you can buy an inexpensive plastic ring sizer from many Etsy shops.

Wide ring bands will fit a bit more snugly than thin bands. You may want to size various fingers, as the rings also look brilliant on a pinkie, middle or index finger.

Origin of Gemstones We Sell:

UnquietStones also offers genuine gemstones purchased by my father, a designer-jeweler working in the 1970s-early 1990s, who sold his designs to high-end shops including Barneys New York, Bergdorf Goodman and hundreds of fine gift shops, boutiques and craft galleries across America.

As these "old stock" gemstones were acquired decades ago for use in precious metal jewelry, they are of a very high quality, and the faceting, clarity and brightness is excellent; gem origin was often Europe or Brazil, and our inventory includes rare stones such as Madeira citrines and rhodolite garnets.

I try to keep costs down, and believe you will get a wonderful value for the price!

Please take the time to view all photos carefully; if you are a novice jeweler, be sure to note the millimeter measurements (i.e. 7x5mm) indicated for all gemstones. Where possible, I will also include the depth/height from table to culet on faceted stones and from top to bottom on cabochons; on matched pairs, I will try to indicate any slight variations in size, faceting or color.

Other:

I make an effort to include accurate descriptions and photos of every item from numerous angles, but color may vary due to lighting and the computer or electronic device used; so please don't hesitate to contact me for more information.
Accepted payment methods
Payment
Payment can be made through Paypal or via Etsy Direct Checkout, which accepts credit or debit cards, Etsy gift cards and other international payment methods.
Shipping
DOMESTIC SHIPPING: I will ship as quickly as possible, within 2 business days, via USPS first class for gems and USPS Priority Mail for rings and jewelry, using Etsy shipping labels when possible.

INTERNATIONAL SHIPPING: I use Etsy shipping labels through the United States Postal Service for international shipping. Gems will be sent USPS First Class International. Rings and jewelry will be sent USPS Priority Mail International.

If you live outside the U.S. and your country is not listed, and you would like to make a purchase, please contact me for a shipping estimate, as different countries may have different rates and rules.

CUSTOMS: Please note that in-country customs could potentially add time to the delivery estimate and those countries may charge a customs fee which is the buyer's responsibility. UnquietStones is not responsible for this delay or any taxes/fees imposed in the receiving country.

If you'd like to pay for an alternate shipping method, please let me know.

If you're sending a gift directly to the recipient, send me a note at the time of your purchase; I'll be happy to provide a bit of pretty packaging of my own design, free of charge.
Returns and exchanges
Returns will be accepted if you contact me within 48 hours of receipt of your parcel, however I will not refund the original shipping fee or cover return shipping costs.

Please make sure you are purchasing the correct ring size (if you do not know your size -- or that of your gift recipient -- any fine jewelry shop can size fingers for both thin and thick bands, usually at no charge).

Items must be shipped back with a tracking number both for proof of mailing and to assist the USPS or other shipper in locating it, in case item is lost in transit.

Payment will not be refunded until the item is received and inspected (so please pack it carefully!), and there will be a 10% restocking fee.
Additional policies and FAQs
The name of my shop comes from a poem by Neruda; it has a dual-fold meaning.

First, the sound I heard on a beach in Maine, as ocean waves crashed across pebbles on the shore, and created a beautiful rolling, chiming, clanking sound.

And also, the meaning and power of gemstones – unquiet stones that speak to the heart, the soul and the mind; forged in the earth from fire, pressure, water and time.

Adorning ourselves with these glittering natural gemstones – or just tucking them into a pocket -- can bring a touch of beauty into our world.

"In the wave-strike over unquiet stones
the water bursts and bears the rose
and the ring of water contracts to a cluster
to one drop of azure brine that falls."
- Pablo Neruda

I'm happy to answer any questions, and welcome contact with the Etsy community!

This ring is beautifully made
Apr 17, 2018 by melissa sawyer

This item is nice. The Seller is a fantastic person who goes out of her way to make you happy. I would not hesitate purchasing from her again.
Mar 16, 2018 by

Such fast shipping and great products! I ordered a very unusual sized ring and the owner went out of her way to check and made sure it was correct before shipping. Amazing service and I love my ring!!!
Jan 26, 2018 by meganchunn

Nice ring looks good. Good place to shop.
Nov 6, 2017 by Jackie Mccall

Oct 30, 2017 by Laura Verschoore

The ring is very beautiful and perfect size. The citrine has a very nice yellow color and the band's pattern is super pretty! Madeline is the sweetest seller I've come across in Etsy. Fast shipping and great customer service. Totally recommended!
Oct 25, 2017 by Laura


Stunning ring and amazing customer service. Thank you!
May 25, 2017 by JillHorwich

Just perfect. The perfect stone. The perfect mounting. A perfect fit. A perfect ETSY store. I love it. Thank you.
May 9, 2017 by JillHorwich

May 6, 2017 by Elaine Rothenberg