VidaliaVintageSupply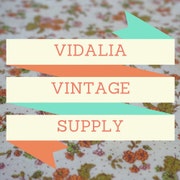 Sorry we don't have anything like that.
About
Here's the story:
After many months of scouring Craigslist for the perfect vintage camper to renovate, my husband and I were driving thru Gaston County, NC on the way to our uncle's secret fishing hole. We passed a yard that had everything from a couple vintage hot rods, bee boxes, perfectly-manicured strawberry plants, several ol' plows, free range chickens, and THE Siesta camper you see on my shop header photo. I told my husband I HAD to put a note in the mailbox, to see if the owner was interested in selling it. [Now I digress to tell you that I graduated from Appalachian State University with a Apparel Design & Merchandising degree, and I love to sew. Well, I love to make lots of things.... and by Etsy-law, I have to tell you my other shop is Vidalia Vogue, which houses my southern bohemian jewelry creations]. Continuing onward, we passed the mailbox once on the wrong side of the road, another time trying to figure out which of the two it was, another time on the wrong side of the road, and when I was finally ready, a suspicious older man was out in his yard wondering what in the hell we were doing, so I told Austin "Just pull in!" Long story short, this intensely interesting old man accepted our offer on the camper.... he said I had to take it "as is", which meant I had to get new wheels and tires on it to even get it out of his yard, but also.... all his mother's fabric from many years of being a seamstress came with it... and there was PILES inside. He said all of it was from the 1950's-1990. I salvaged what I could and have saved a few-too-many favorites for my own use... the rest live here, in this Etsy shop, excitedly waiting for their perfect project in YOUR home.

That being said... I love to sew, but I'm no fabric expert. I am doing the best I can to describe the weight and fiber content based on my experience. Please feel free to message me with any questions.

Each scarf was amazing. Each so different. Perfect in every way. Clean , nicely appointed in package. Thank you Vidalia Vintage !!
Feb 15, 2018 by Donita Sather

Jun 30, 2017 by hitchbrake

Darling vintage fabric! Friendly, helpful seller who does things right. Arrived in a flash. Hope to trade again here!
Apr 3, 2017 by FeedsackQueen