WellingtonHouseDesig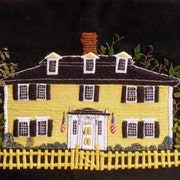 Sorry we don't have anything like that.
About
Angie's Hope - A Nautical Quilt is now available on Etsy!
July 2017:

I'm up in the north woods  where the inspiration is endless for my  new quilt I'm designing.  Northwoods Memories II  should be ready later in 2017. Watch for it.
 
July 2016:

I have always wanted to do a nautical themed quilt and when I showed my embroidered designs to my friend, Angie, she was overcome with emotion and told me what these designs meant to her personally. God is our compass to direct us, our anchor to hold us, our life preserver to save us, our lighthouse to guide us and our sailboat to lead us home. Thanks Angie!

This is a special quilt to me. I hope you enjoy stitching it!

May 2015:

I am so happy to announce that the latest of my new quilts, Woodland Walk in Black and White and Woodland Walk in Earth Tones are now in my Etsy shop.

The woods and forests have always been a favorite place for me. Whether it's portaging in the boundary waters while fishing or simply strolling along a woodland path while gazing in amazement at God's gift of trees and wildflowers in their glory. I hope you enjoy stitching these designs and dream of a woodland walk.

My new Hearts and Vines quilt pattern is also now available on Etsy.

Hearts and Vines was a labor of love: Over the years, I designed a special gift for each grandchild. Each piece has hearts and vines along with words expressing my love for them. These are the ten embroidered blocks in Hearts and Vines. They celebrate my grandchildren and are named after them.

Hearts and Vines is a tender quilt filled with love. I hope you enjoy stitching it for your loved ones.

April 2015:
I have been diligently designing three new quilts for the Quilt Market being held in Minneapolis in May.

My new Pine Berries quilt and hand embroidery wreath patterns are now available for my Etsy customers.

One of my fondest memories is of a candlelight dinner with my husband at a pub in Colonial Williamsburg followed by a stroll through the lantern lit streets led by a woman in period costume. On the front door of each home was a fresh pine wreath adorned with colorful fresh fruit. This beautiful memory will stay with me the rest of my life and was the inspiration for my Pine Berries quilt and embroidery patterns.

Watch for my Hearts and Vines quilt and my Woodland Walk quilt. They will be on Etsy within the next month. I hope you like them! They are completely different than anything that I've done so far!

June 2013:

My journey as an artist began at an early age. I would often go into my father's study and sketch him as he prepared his Sunday sermons. This also gave me some precious time with him.

In years following, my creative endeavors were nurtured by teachers and I was inspired by many others who crossed my path.

As my love for art developed, I painted mostly landscapes and still life with oil and acrylic paint using nature and rural settings as my inspiration.

As my journey continued, I traveled to Chicago and Philadelphia to be trained in the art of Theorem painting which is an early American art form using a series of stencils. As I studied and practiced I took the next step and started designing and cutting my own stencils. Some designs required as many as 8 to 10 stencils per design. Always looking for something new and different, I designed a form of bas - relief (low-relief) painting using textured mediums to create a carved look.

Along with my husband, a wood worker, we combined our skills which became our livelihood. As we raised our five children, we sold art and woodwork at our Minnesota Renaissance Festival shop and art shows across the United States for 23 years.

In 2003 I embraced needlework, creating my own embroidery and wool applique designs. Today, the artistry gives me the most joy of any artwork I have ever done. My patterns are available at quilt shops around the United States and Canada.

When I'm not designing or stitching in my Bloomington, Minnesota home studio, I enjoy the company of family and friends.

I thank God every day for giving me a creative mind.
Shop members
Beth Ritter

Owner, Maker, Designer, Curator

I'm in my eighth decade of fun-loving creativity! My favorite art form is designing embroidery and wool applique patterns. Have fun browsing in my shop!
Average item review
(249)


I haven't made this yet but I loved the design, it's very tranquil and I'm looking forward to making it. I would recommend.
6 days ago by RosieM22

Looking forward to making a small quilt for my daughter- in - law
Jun 10, 2018 by Joni Boesiger

Very happy with my purchase! Thank you,
Jun 3, 2018 by Jamie

Such a lovely pattern! Thank you!
Jun 3, 2018 by Jamie

Repeat customer!!! This is my second image purchase. Such an adorable snowman with the little bird seed bag. Very folklore -- excellent for a redwork. I can't wait to get started. Thank you.
May 24, 2018 by

This is a beautifully created image -- perfect for redworking. I love the little birds. Thank you.
May 24, 2018 by

May 20, 2018 by Shauna Ligget

May 16, 2018 by Mary Ellen Leonardini

Love the pattern and I can't wait to stitch it up. Thanks.
May 15, 2018 by Vickie Gorse