WoodlandWorkshop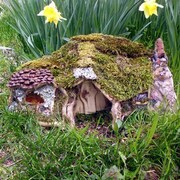 Sorry we don't have anything like that.
About
How I Found My Future Out in the Woods
A profile on me up to now would be droll and dreary. I had quirks and foibles, but they were mine. Pretty rocks and unusual discoveries would pique my interest for a while, until the adult world beckoned and I would need to put away childish things. It wasn't until I found out my wife and best friend (if you have one good friend in this big, lonely world, then you are truly blessed) had Parkinson's Disease and Diabetes that I became the person of interest and help-mate I should have been all along.

Taking long walks under tall trees in short grass was always a favorite past time of ours (inspired by our youngest daughter). But, with the onset of debilitating disease, forays into our forest ceased, and life and property became a tangle of brambles and bindweed. Lifestyle changes were necessary to put our bodies and spirits back into harmony with nature and the universe. With machete and mower in hand, very much like Arthur Rackham's "The Man who was Terrified by Goblins", I triumphed over my trepidation of the thorny thicket our life had become. While thrashing and hacking thru the over-grown under-brush I would occasionally discover a struggling sapling, a beautiful bush, a grotesque growth, or precious pretty and I would make it mine! Child-like, I know. But as Wordsworth told the great-grandfathers of our fathers "Heaven lies about us in our infancy."

Thomas Traherne wrote in his "Centuries of Meditations"...all things abided eternally as they were in their proper places...The city seemed to stand in Eden, or to be built in Heaven. The streets were mine, the temple was mine, the people were mine, their clothes and gold and silver were mine, as much as their sparkling eyes, fair skins and ruddy faces. The skies were mine and so were the sun and moon and stars, and all the World was mine; and I the only spectator and enjoyer of it...So that with much ado I was corrupted and made to learn the dirty devices of this world. Which now I unlearn, and become as it were a little child again that I may enter into the Kingdom of God.
Just as my inspiration for this site ministered to the need of children for fairies, Arthur Rackham ministered to the need of adults. Therefore, even if there were no such beings as fairies, Arthur Quiller-Couch reminds us that the children would have to invent them-pixies, nixies, gnomes, goblins, elves, kobbolds, and the rest-to account for the marvels that are happening all the while, but especially while we sleep. How else can we explain toadstools, for instance?
Shop members
Robert Murphy

Owner

I used to be the little-known, long-haired, leaping gnome that was Mr. Mom when the kids were young, needing to go everywhere and do everything. Now, I feel more like Gandalf, a wizard who grows a beard and knows things...Enjoy Life!
Shop policies
Last updated on
May 9, 2014
Payment
The Woodland Workshop accepts PayPal or you can use Etsy's Checkout with your credit card, debit card, or Etsy Gift Card.
Shipping
U.S. Orders:

Domestic orders are shipped within 48 hours of purchase via USPS First Class Mail or Priority Mail, depending on their weight (please allow 2-4 days for delivery). Delivery Confirmation is included with all domestic orders at no additional charge.

International Orders:

All international orders are shipped via USPS First Class Mail within 48 hours of purchase (please allow 2-6 weeks for delivery). Lost packages are not the responsibility of Woodland Workshop. If you would like to insure your package or would prefer it to be shipped via International Priority or Express Mail, please contact me before you purchase so I can adjust the shipping price.
Returns and exchanges
ALL PURCHASES ARE FINAL.

If you are unsure about an item and have questions, please contact me before you purchase. I will be happy to answer any questions you have. I can even send you more pictures should you need them to decide. It is important to me that you enjoy your handcrafted item.

I strive to be honest, thoughtful and accurate when describing the items in my shop. Please be mindful that the items offered in my shop are handcrafted from natural materials which can cause some irregularities in color and texture, but then that is what makes them special and one of a kind.
Additional policies and FAQs
Custom Orders are always welcomed. I look forward to working with you and bringing your ideas to life.
Average item review
(381)

Perfect for vase filler. Fast shipping.
Jun 18, 2018 by Malgalrocks

These will be perfect as vase filler for our rehearsal dinner!
Jun 11, 2018 by Malgalrocks

Love these buttons, will look great on my woven jacket.
Apr 9, 2018 by stardustdreams1357

Arrived safe & sound-- an excellent sale. These are wonderfully made buttons & are perfect for a cozy head covering ,& cowl. From descriptions to price and packaging, again --- excellent. Thank you for the fast shipping too. I love these!
Feb 4, 2018 by Deb

I LOVE these. And I think they are very cool! Thank you for quick shipping and a terrific product! Exactly as shown...photo is great, shows the exact item! THANK YOU.
Dec 16, 2017 by artbymindy

Looks awesome, fast shipping and great customer service!
Dec 7, 2017 by M D

Great item which helped with a wonderful craft project!
Dec 3, 2017 by Velvet8744

Nov 24, 2017 by Jim Russell


Wonderful item and packed very well. Thank you for a lovely Etsy experience.
Nov 3, 2017 by Dawn Anderson