ZenMediterranean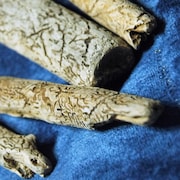 I was a bit confused about the money conversion. Didn't realize it would be something other than us dollars until I paid. Ended up being more than I expected. Two were broken when package arrived. Wrapped in newspaper with no box. Would cost too much to send back. Lesson learned.
Aug 2, 2016 by Deborah Smiddie

These are just perfect for what I have in mind! Thank you!
Mar 7, 2016 by Suni Ryan

These are just as nice as I was hoping for! Shipping was prompt. They were packed very well, and even made to look like a little present for me. Thank you so very much for these pieces.
Mar 7, 2016 by Suni Ryan

thank you for the wonderful speedy shipment and beautiful pieces
Mar 4, 2016 by theartflow