coriekline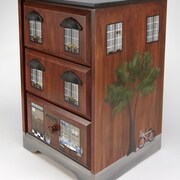 Sorry we don't have anything like that.
About
Pieces of Magic
Before this techie world full of social media and online stores, I sold my pieces at art shows (still do). My parents were crafters in the 70's and 80's and worked craft shows on the weekends, with Mom selling tole painted wood items that my Dad would cut in his wood shop. As a kid, I roamed the festival grounds, spending my babysitting money on handmade jewelry and puppets. Art show were like shopping malls, full of one-of-a-kind items created with love, and the people that made them were sitting right there, smiling at you, hoping that you buy their little pieces of magic. Art is like that for me. It doesn't exist until someone makes it. I only buy my purses and jewelry from artists (stay out of Kohls, ladies). When I travel, I avoid buying t-shirts and magnets as souvenirs. Instead, I find that shop or artisan event and buy that charming London necklace from the Englishman standing right there manning his booth all day. My home is full of little pieces of art that I have collected and adore and remind me of where I was when I got them. So to grow up and be an artist myself, wow, that's just living the dream.

I went to college and got a Fine Arts degree. I married my high school sweetheart at age 22 and had twin daughters at age 24. Geesh. By age 27, we had our third girl and I was set to be a stay at home mom. But, every day, I would get to "go paint," just for the duration of whatever video I popped in, just to keep the girls occupied for a bit (hint: Swiss Family Robinson is over 2 hours...so use it when you really need to get stuff done). I painted used furniture from garage sales and wall murals on the weekends. I was, and still am, so lucky that my spouse has been able to provide for our family so that I can go about with my art and create things that didn't otherwise exist for other people.

My marriage is now into 2 decades and my girls are young adults. I continue to sell at art shows and I love to see the customers' reactions and comments regarding my work. But I needed to expand my customer base, and with the world moving online, I had to too. To me, buying and selling on Etsy is the shopping mall of one-of-a-kind items on steroids. I get to show and sell my work to people who would never otherwise know what little pieces of magic I have for them.
Shop members
Corie Kline

Owner

I love turning something ordinary into a work of art! I may forget to buy milk or balance the checkbook, but I can paint a lovely piece of furniture or home decor item to make you smile!

Ollie

Assistant

Ollie likes to stand on my painting table and steal my brushes and paints. I waste time chasing after him and managing his curiosity. But that face....

Jared

Manager

Without Jared, I don't do what I do. He runs the household and has a real job and does my taxes and makes sure that I buy milk and balance the checkbook. Plus he carries my furniture and asks me if my paint lines are supposed to be crooked.
Shop policies
Last updated on
February 4, 2011
Average item review
(109)

The window is absolutely beautiful ! Corie is wonderful to work with and WOW so fast and shipped perfectly. It is a great addition to my sunroom!
May 4, 2018 by Karen Evans

Mar 20, 2018 by kaylathompson629


Item was designed as requested and shipped extremely securely to arrive ahead of time. Corie was extraordinarily pleasant to work with, and I and the gift recipient are very, very pleased.
Jan 3, 2018 by Robert

Nice but expensive shipping. Pretty
Dec 19, 2017 by Dana Gamache
Dec 17, 2017 by arseface01

Corie has been such a pleasure to work with! The hand painted spoons are fabulous. One of a kind and incredibly detailed. I absolutely will purchase again from Corie. She went the extra mile to send these right away and ensuring we were able to gift these. Fabulous products and fantastic service.
Dec 17, 2017 by maryashleysissy

Dec 15, 2017 by mariont50

This is such a different ornament but really cute.
Dec 11, 2017 by T Hall

Another addition to my wife's collection of Christmas ornaments. Such a fantastic ornament. Excellent craftsmanship and super fast shipping. Highly recommended. AAA+++
Dec 7, 2017 by Barry Garland