dreameyce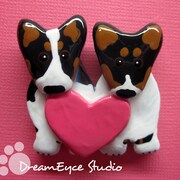 Sorry we don't have anything like that.
About
Dog-obsessed artist - Will make art for dog show entry fees :)
I began making my dog breed art jewelry in '01, when I had trouble finding Cardigan Welsh Corgi things to wear. As I made my own art jewelry pieces and wore them everywhere, people asked me to make them pieces, so from there DreamEyce Studio exploded into all breeds, and even other animals!

An all-around dog-obsessed artist, to say the least. When not sculpting and painting, I run the award-winning TexasDogPhotography.com business, volunteer with assorted rescue groups and local shelters, teach dog training classes, and compete in shows and performance events with my dogs. My canine sidekicks keep me busy, as does the pipsqueak 12yo daughter, Dea.

All DreamEyce Studio art is 100% handmade from clay then painted and sealed in our in-home Texas home studio. I occasionally get help from kidlet and friends for packaging, shipping, and such, but no one has ever met my strict quality standards to help me make the pieces so it's all on me! Enjoy my art, and if what you're looking for isn't here, please let me know! Requests are always welcome, and I'm always up to more artsy adventures!
Shop members
Emily Rose

Owner, Creator, Designer

DreamEyce Studio was started in '01 when Emily couldn't find fun Cardigan Welsh Corgi and pet rat art jewelry to wear to dog and rat events. Her whimsical handmade wearable art caught the eyes of others, who quickly became collectors and fans.

Dea

Studio Monkey, Assistant, Shipper

12 year old Dea helps with inventory, sales, packing boxes and other kidlet chores. Many of the fun DreamEyce Studio art designs were Dea's idea!
Production partners
Printful

Charlotte, NC

Printful prints my designs onto products, than ships directly to you.
Shop policies
Last updated on
October 5, 2015
Shipping
Notice for International orders:
DreamEyce Studio can not be held responsible for delays or lost packages caused by shipping services, or customs. We have on rare occasion experienced delayed packages once they reach their country of origin. Once packages leave our hands and are in the care of shipping services we have no control over them. You have to rely on the tracking information through your shipping provider, and contact with your country's post master if there is problems with shipping on their end. Sorry, we can not take responsibility for any issues with shipping once orders are out of the USA.
Returns and exchanges
If you have ANY problem with your DreamEyce Studio order, please let us know and we'll do whatever it takes to make it right. Emily takes pride in her work, with the goal of happy customers who enjoy collecting their handmade DreamEyce art!
Average item review
(229)

Cool green necklace chains. Love the easy-to-clasp design and they look really cool on. Just what I needed. Fast delivery,great seller. Thanks!
Mar 27, 2018 by oldbluez9

I love this chain. The colors available are great and the chain is well made and easy to wear. Great seller; thanks!
Mar 27, 2018 by oldbluez9

Lovely necklace contains 3 of the 4 colors of cavaliers. This very creative artist even picks cute names for her pieces as evidenced by this piece's name "Hangin' On' which is exactly what they are doing! Love this fun animal artist who has made a niche for herself in this highly competitive animal lover's world -- but it is entirely self made, the best kind and to my knowledge no one is even trailing her (duplicating--that is -- trying to --) duplicate her work! Thanks for the fun wearing this and all my other purchases and gifts I have purchased from you!
Mar 22, 2018 by Jan Wentzlaff

So adorable little tennis ball The owner so nice and profesional
Mar 6, 2018 by Mary Hightower

This gift is for one of 2 people in our family, both of whom love cats. I love the different colors in this gorgeous piece and so will the recipient. Great design, once again!
Feb 27, 2018 by Jan Wentzlaff

This pendant seems like the other sugar skull collie ornament but this is a border collie, which is different. It is similar but different, as the artist depicted with the different legs positioning, ears not straight up (which is a nice touch because some collies have them and some don't), and the tail goes to the other side. Nice observations from a truly one of a kind artist, whom I am sure will have knock off competitors from China when they see these beautiful different holiday pieces. That would be unfortunate financially for her business but in a way a compliment because animal lovers are a huge market in the US. People love their animals except for the small percentage which unfortunately mistreat their's, but we're not going in that direction here. Truly a lovely piece I will enjoy wearing! Thank you again!
Feb 27, 2018 by Jan Wentzlaff

This collie sugar skull Halloween pendant shows the artist's unending ability to capture the funniest aspect of the collie with its pointed ears and long tail out to the side and its long legs. She is truly creative and I absolutely love different things related to my current and passed on dogs, all of whom I have the best, fondest memories because they made such an impact on our family. Thank you so much for giving me some happiness about our 3 sweet collie girls.
Feb 27, 2018 by Jan Wentzlaff

Super darling. Really glad I bought this! :D
Feb 27, 2018 by Kris

Super darling. Really glad I bought this! :D
Feb 27, 2018 by Kris
Super darling. Really glad I bought this! :D
Feb 27, 2018 by Kris