empapers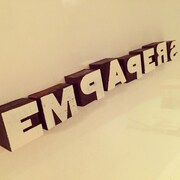 Sorry we don't have anything like that.
About
A Ten Year Pause
e.m.papers originally started as a wedding invitation business over 10 years ago by me, Eleanor, and my friend Molly. The first initial of our first names were the 'e' and 'm' in e.m.papers.

The business never really got off the ground, mostly because we were young and ambivalent about what we wanted and where our lives would take us. We also couldn't our heads around the business of printing, distributing and selling stationery. The designing part was the most fun, the rest...not so much.

Molly started a family, and a coaching business. It was the middle of the dot.com boom, and I had just graduated from art school as a graphic designer. I wanted to see the world, and while living in Munich, found a job at an American web consulting firm launching it's German offices. I have been in Germany ever since.

In the meantime the internet grew out of it's infancy and starting a business on the web had never been easier or more enticing. Moreover, the home-printer market has matured (when I was in art school a home color printer cost around $1000.00). Considering these facts, sometime in the summer of 2007  it seemed like a good idea to give e.m.papers another go and bring it online selling printables; download and print-at-home greeting cards and paper goods.

A good friend of ours was getting married in California, in the course of the celebrations I brought the idea up to Molly, her response was basically 'Go for it!' and e.m.papers was reborn.

I started creating printable stationery, paper goods and invitations while continuing at my  full-time day job. Every time I designed  holiday cards, a last-minute birthday card or gift labels for personal use, I uploaded the design to e.m.papers.

When I got married, I leveraged my skill as a professional graphic designer to "scratch my own itch" and produce wedding invitations, thank you notes, save the dates, escort cards for my own two weddings (to the same guy in two different countries.) I refined my products through this process, along with helping some of my girlfriends with their weddings. The templates and designs are "by a bride for brides."

Within a couple of years and, especially after the launch of the DIY printable wedding invitations I was able to quit my day job to work on e.m.papers full time! Read my Etsy Quit Your Day Job feature here: http://www.etsy.com/blog/en/2012/quit-your-day-job-e-m-papers/

Since then, e.m.papers products have been featured in magazines such as Martha Stewart Weddings, BRIDES as well as highlighted in blogs such as Apartment Therapy, Design Milk and Oh So Beautiful Paper. e.m.papers was also hailed as a 'Rockstar Business' in Chris Gullibeau's book The $100 Dollar Start-up.
Shop members
Eleanor Mayrhofer

Owner

I'm a daughter of a letterpress printer and native Californian who has happily called Munich, Germany home for the last 13+ years. After a corporate career as a graphic designer and project manager, I took the leap and started e.m.papers.
Shop policies
Last updated on
January 25, 2013
Welcome to e.m.papers! e.m.papers offers DIY printable wedding invitation and paper good templates. Each template is a PDF form which you can personalize and print at home. I leveraged my skill as a professional graphic designer to "scratch my own itch" and produce wedding invitations, thank you notes, save the dates, escort cards for my own two weddings (to the same guy in two different countries) I refined my products through this process, along with helping some of my girlfriends with their weddings. The templates and designs are "by a bride for brides."

There is no reason you can't have fabulous paper goods for your wedding without spending a ridiculous amount of money or getting bogged down in some sort of impossible craft project trying to replicate "easy" DIY projects that an army of professional stylists have produced for a glossy feature. My wedding invitations and kits are cost effective, not just because they are printables, but because I consider ink usage in the design. They are also easy to produce, just enter your personal details in the fields, print and cut. It's sort of like filling out a tax form, but a lot more fun.
Accepted payment methods
Payment
As soon as we receive an email we will email you a PDF file within 24 hours.
Shipping
Everything is shipped per email. Free shipping, yay!
Returns and exchanges
If you are any way unhappy with your e.m.papers purchase, we will refund your money. No questions asked.
Additional policies and FAQs
FAQS

1. What kind of paper should I use to print my e.m.paper printable on?
The best kind of paper to use for e.m.papers cards and invitations is card stock. Card stock is thicker than regular printer paper and is sometimes called 'cover' weight stock. Card stock comes in weights anywhere from 67 lb.-140 lb. weights, the higher the weight, the thicker the stock. A big factor in determining which weight to choose is what weight of paper your printer will accept. Most printers will comfortably print on 90-110 lb. stock. Another factor to consider when purchasing card stock is what kind of paper will work with your printer, most paper stocks are made specifically for laser printers, others for inkjet printers. If you are purchasing a specialty paper such as vellum, or paper with pearlized or iridescent surfaces, make sure that it will work with your printer type. For other e.m.papers printables such as 'fold only' cards (printables in which a letter size sheet of paper is folded once horizontally and once vertically to create a card) or letter-sized printable calendars, standard weight paper works fine. These printable paper goods are designed to look great with regular old printer paper from the office supply store.

2. Where can I buy paper to print my printables on?
Regular card stock can be found at any major office supply store like Office Depot or Staples. Online paper vendors such as Paper Source have a variety of higher-end card stock with matching envelopes. You can also order online directly from paper manufacturers like French Paper, who offer several lines of really nice stock with matching envelopes. You can also find paper, card stock and specialty papers with matching envelopes at your local stationery store.

3. What kind of printer can I use?
e.m.papers printables are designed to be used on home printers. Most of the cards shown in the images throughout the site have been printed on an ancient HP 960c inkjet printer. As long as your printer accepts card stock and regular paper, all e.m.papers printable paper goods should print without any problems.

4. How much ink will my printable item use?
It depends on how much you're printing. Almost all e.m.papers printable goods are designed with ink usage considerations in mind. Big blocks of color tend to suck up ink. With some exceptions you'll notice many of our calendars, wedding invitations, and other paper goods are designed with a lot of white space. We haven't done a scientifically measured study yet, but from our own experience with our old Hewlett Packard, for many designs we can print at least 50-75 sheets without needing to purchase a new ink cartridge. For large run items, like our printable wedding invitations or wedding invitation sets which usually require printing multiple copies, you will need to factor in the cost of additional ink.

5. Can I have e.m.papers printables printed at a copy place or service bureau, like Kinkos?
Yes, but be careful. e.m.papers templates are designed to be used on a home printer but our printable files will work at most copy places and/or digital printers. Many people find this a time saving way to produce their printable items, especially wedding invitations. Many of these services even let you send or upload a PDF file to their site, select a paper stock and simply pick up the print-outs when they're finished. Please note: Occasionally the software used by the copy shop or digital printer may have problems with the way our files our set up. It's impossible for us to set up a template that works for each type of high-quality digital printer software so we cannot guarantee that our templates will work everywhere. If for some reason problems arise in the printing process, and your files need to be altered you may need to come back to us to adjust the file, which will incur set up fees. Convo us if you'd like a sample file to try at the copy shop first.

6. Can I have my e.m.papers printables printed by an offset or letterpress printer?
No. e.m.papers templates are designed in a way that doesn't allow for the type of pre-press production required by conventional offset printers (such as Vistaprint) or letterpress printing. If you are interested in using an e.m.papers design with this type of printer, we can produce these files for you. An hourly rate is charged for the production work, which includes time interacting with the printer. For more information send me a convo.

7. Can I change the design of an e.m.papers printable template myself?
No. Our printable templates are copyrighted and password protected, which prevents the opening and altering the original design in programs such as Adobe Illustrator. Items like our printable wedding sets contain editable text fields to personalize your invitations, save the dates, response cards, etc. but the design elements are fixed.

8. Can I have my e.m.papers wedding invitation or wedding invitation set customized?
Sure! we offer services to customize colors, as well as make minor alterations to existing template designs. The cost depends on the type of package purchased (wedding invitation, wedding correspondence set, complete wedding set) which determine how many files need to be altered, the amount of colors to be changed and the extent of changes to the original design of the template. If you are interested in having an invitation or set customized, send me a convo.
Average item review
(618)
Unkomplizierter Download und tolles Design
3 days ago by Kerstin Böser

May 26, 2018 by Meredith Cox

May 19, 2018 by Damian Gonzalez

Once I figured out how to edit, I was pleased with the product. It was slightly frustrating to figure out for Mac, despite the instructions.
May 9, 2018 by Lindsay Devereux

The template is absolutely gorgeous and fantastically easy to use. Thanks so much for making it possible to have beautiful, personalized wedding invitations that are affordable. Also, thanks for getting back to me so fast when I had a question. Great experience all around.
May 7, 2018 by Lexi Patin

Very easy to edit and looked great printed.
Apr 30, 2018 by Martha Griffin

Mar 9, 2018 by Britt Shepherd

Mar 7, 2018 by Britt Shepherd

Very easy to use and we love the simple design
Feb 17, 2018 by Alicia R

Feb 7, 2018 by annieshannie1