kitchenseeds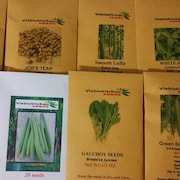 It's excellent. All seeds is good.
Jul 20, 2018 by Poe Lwey

These molokhia seeds are coming up nicely. Temperatures are very high- in the hundreds- and the seedlings are just fine under shade in mid-day. Seeds are correctly labeled- they are what the packet says they are. Germination seems to be great. It's clear the seller uses seeds that are good and fresh.
Jun 26, 2018 by jessica buse

Jun 21, 2018 by Thanh Truc Pham



my 2nd purchased from them. i remember buying another seed from them few years ago, just planted them recenty together with this malabar. they just sprouted
May 19, 2018 by Jessa

Kitchen seeds is the best seller of seeds online hands down. They sprout, grow and thrive really good. Nice packaging too with detailed planting instructions. Plus their seed varieties are immense and reasonably priced. Can't get any better. I've ordered many many seeds. ONLY problem was orders always came late. So make sure to follow up. Overall A+++
May 18, 2018 by Dante

Kitchen seeds is the best seller of seeds online hands down. They sprout, grow and thrive really good. Nice packaging too with detailed planting instructions. Plus their seed varieties are immense and reasonably priced. Can't get any better. I've ordered many many seeds. ONLY problem was orders always came late. So make sure to follow up. Overall A+++
May 18, 2018 by Dante

Kitchen seeds is the best seller of seeds online hands down. They sprout, grow and thrive really good. Nice packaging too with detailed planting instructions. Plus their seed varieties are immense and reasonably priced. Can't get any better. I've ordered many many seeds. ONLY problem was orders always came late. So make sure to follow up. Overall A+++
May 18, 2018 by Dante

Kitchen seeds is the best seller of seeds online hands down. They sprout, grow and thrive really good. Nice packaging too with detailed planting instructions. Plus their seed varieties are immense and reasonably priced. Can't get any better. I've ordered many many seeds. ONLY problem was orders always came late. So make sure to follow up. Overall A+++
May 18, 2018 by Dante