lacediy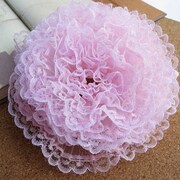 Sorry we don't have anything like that.
Average item review
(1,897)

This is very nice lace from this shop. I was very happy with this lace. Thank you . Thank you also for the rapid post . I am very pleased with this part of my purchase from you.
17 hours ago by Daria Aniashvilli

This was not at all like the photo picture. The threads were hanging off many individual flowers and many linked to the next flower in far distance of fabric. The actual embroideries were often only half finished (for example there were many flowers with a centre that seemed to have "run out " of thread and it was that thread that was left dangling!). The little butterflies, that I had liked so much on the photo on the seller's Etsy site photo, were not to be found! All I could find were blobs of a peculiar shape, in blue and pink, half embroidered that might possibly been attempts. I was disappointed. I saw other reviewers had contacted shop with no success . So, I did not try to contact . I am glad that I only ordered 1 yard and will not buy from that shop again. I have bought from other Chinese Etsy shops with success.
17 hours ago by Daria Aniashvilli

Great product! As described.
22 hours ago by bluebird5175

Thank you! The lace I received is beautiful x
22 hours ago by Katrina

love this fabric thank you. fast shipping too.
1 day ago by joseelyne

2 days ago by Kerrie Miller

The initial shipment took a while, however once shipped it arrived quickly and it looks exactly like the photo - will be using for the sleeves being added to my wedding dress. You can't beat the quality for less than $10 per yard!
2 days ago by Kayla Driscoll

very nice piece, exceeded my expectations, thank you
4 days ago by Sandy

lovely lace trim, swift postage, I will be ordering more form your store
4 days ago by Sandy

Nice item and thank you for the quick delivery, will be back to order more items
4 days ago by Sandy