njynotjustyarns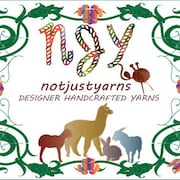 Sorry we don't have anything like that.
About
who me? grin... i am just like you...i love fibers and yarns and knitting and crochet and weaving and..
Our unique combo yarns grew out of my need for yarn colors and fibers and textures that I just couldn't find anywhere…no matter where I looked I couldn't find what I wanted for my own projects… yarns that I could pet and enjoy working with…so I created my own "combo yarns"- individual yarns that excited the senses and looked amazing worked together.

Then a friend saw my knitting and had to have something like them for herself, then her sister called me and begged for a special yarn for her new baby, then her neighbor had to make an heirloom afghan for her newly married son….. and so a home business was born. A business that allowed me to stay at home with my sons and still enjoy the fibers and creating that I so enjoyed.

Finally I discovered that raising my own fiber gave me the peace of mind and quality of fiber that I couldn't find elsewhere. Finally finishing the circle glacial ridge alpacas and notjustyarns became a reality 14 (2002) years ago and we haven't regretted a moment since.

We have lots of yummy yarns in wonderful fibers, knitting/crocheting supplies, crafts/quilts. Our exclusive combo yarns are made from the most wonderful yarns we can find, in wonderful fibers & textures & colors then combined to make them easy and fun to use.

Enjoy our yarns, I enjoy making them for you and I'm glad to answer any questions you may have about them.

Special orders are welcome and visits can be arranged also.
Shop policies
Last updated on
February 3, 2011
Average item review
(303)


I'm so pleased I was able to buy some of this fleece. The fiber is absolutely gorgeous with almost no second cuts. Thank you so much for letting me buy part of the fleece instead of the whole thing. I can't wait to spin it up!
Apr 11, 2018 by MiddleKingdomFiber

Beautiful as always thanks, Gail
Jul 13, 2017 by Gail MacLean Johnston

Love it I buy almost all she has of this every time. Thanks, Gail
Jul 13, 2017 by Gail MacLean Johnston

Jul 9, 2017 by Lush Fiber Company

Love Love This. It is just beautiful and will make my beautiful scarf on my Saori loom.. The shop owner gifted me with some free surprises which were so appreciated. You can't go wrong with her yarn.. Buy it all I am trying to. Thanks so much, Gail
Jan 25, 2017 by Gail MacLean Johnston

Great little coasters.. They are so nice I hesitate to use them.. Thanks so much, Gail
Jan 25, 2017 by Gail MacLean Johnston

I just got this and NEVER buy yarn since I make it every day. This is to die for and I hope you can make more I have a shawl that needs to be made. Wonderful, Beautiful Magical.. The best!! Thanks, Gail
Dec 24, 2016 by Gail MacLean Johnston

Beautiful yarn and color ,thank you !!
Sep 21, 2016 by Ilona Stefanovic

Jul 25, 2016 by ericamanchola