olivewood2000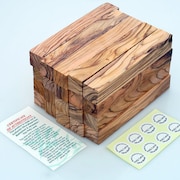 Sorry we don't have anything like that.

Mar 23, 2018 by James Panter

Everything good. Nice blanks :)
Mar 13, 2018 by Predrag Almazan

Feb 17, 2018 by Pastor David

Feb 7, 2018 by James Panter

Beautiful wood blanks! Thanks
Feb 3, 2018 by Branching Out

Bois magnifique. Livraison rapide. Je recommande.
Jan 3, 2018 by M. pla serge

Beautiful wood! Thank you. absoutly amazing grain.
Jan 2, 2018 by Michael Denton

This was a gift for a wood turner, and he loved it. Thank you!
Dec 22, 2017 by Sherri Underwood

I've only ordered through Etsy this one time and never received my item and have not received my refund either. Never again! What a rip off!! Zero stars.
Dec 12, 2017 by Keith Nutter

Superbe bois d'Olivier . La livraison a été rapide. Je recommande.
Nov 21, 2017 by M. pla serge