ozarknomad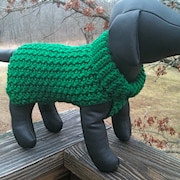 Sorry we don't have anything like that.
About
My Mission Is To Make It Easier For Beginners
I have heard it a thousand times. I know how to crochet (or knit) , but I don't know how to read a pattern.

When I began writing patterns in 2007, I tried to write them for the beginner who had difficulty reading crochet and knitting shorthand. My customers loved the patterns, because they could understand them and they could make a dog sweater that fit their own dog. Occasionally I would find someone who would say it wasn't a pattern at all, because it didn't have the shorthand terms. But for the most part, people loved them and I got great feedback.

Sometimes I went looking for a pattern for something special to make and when I couldn't find what I wanted, I wrote my own pattern.

I sold my first patterns on Ebay, but as soon as I heard about Etsy, I switched. I now sell exclusively on the Internet, on Etsy and Amazon.com for Kindle.

Now it's not just about dog sweaters, but also hats, slippers, jewelry, decoupage, and beads.

I read a 2014 article on CNN Internet News about crafting that confirmed something that I have pretty much always known. Crafting is great therapy. It alleviates depression and anxiety disorders, helps control chronic pain, and is a form of meditation itself. The repetition becomes a kind of mantra, and it helps slow down a racing mind and can give you a feeling of peace and tranquility. When I knit or crochet, I feel connected to all the women before me who used their hands to create warm things and things of beauty for their loved ones. I have arthritis in my hands, and they feel better when they are busy.

I love tatting as much as the crochet and knitting, if not more! I learn from the techniques of others and write my own original tatting patterns. Recently I have started hand dyeing thread to use and to sell. Fascinating!
Shop policies
Last updated on
September 10, 2013
Average item review
(1,052)

Jul 7, 2018 by Faeriemoon

Awesome seller-great communication; easy trans; perfect item! Thanks! ★★★★★
Jun 25, 2018 by Crab Life

Fun, easy and quick! I made the doggie coat in red because my girl looks so good in red! Lol! Thanks for the fun pattern and project. It worked up very quickly!
Jun 21, 2018 by Susan

Great directions. Thank you
Jun 2, 2018 by Juanita

I looked everywhere for a pattern for this, glad to have found it. Looking forward to using, appears easy to follow.
May 28, 2018 by Christine Martin

May 19, 2018 by nina johnson

May 14, 2018 by Kate Covill

Apr 10, 2018 by eternallyundeclared

fun and easy design
Mar 22, 2018 by Claudia

The only thing I did different is, I added a wider band under the belly and I sewed it. But the pattern is very pretty!
Mar 6, 2018 by Gloria Roche