plantsandthings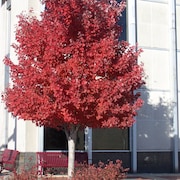 Sorry we don't have anything like that.
About
Your one stop plant and bulb headquarters!
Our nursery is located in the beautiful Middle Tennessee area. We grow, shrubs, trees, nut trees, potted plants and bulbs. We started out with just a few seed beds, then we added more seed beds and a 100 ft. greenhouse. This year we plan to expand, with even more seed beds another greenhouse, and a packing barn. We package our plants and bulbs onsite daily, then they are shipped USPS or another carrier. Give our shop a visit, and we feel confident you will find something to plant.

* WE DO NOT SHIP TO CALIFORNIA, OREGON, WASHINGTON AND ARIZONA.
Shop policies
Last updated on
February 20, 2016
Hello, welcome to my store! I sell plants, bulbs and wildflower bulbs. We have been in the nursery business for over 50 years shipping to all 50 states and Canada. I sell true to name and fresh plants and bulbs. Hope you can find something you like, and thanks for stopping by.
WE DONT SHIP TO CALIFORNIA, OREGON, ARIZONA AND WASHINGTON!
Accepted payment methods
Shipping
I ship USPS priority mail. For larger orders, I ship Fed Ex and UPS. Tracking numbers are emailed to the customer when shipment is made. My orders go out the door in 3-5 business days!
Returns and exchanges
I will refund full purchase price and shipping for any damaged or lost plants or bulbs we ship.
Additional policies and FAQs
PLEASE NOTE WE DO NOT SHIP TO CALIFORNIA, WASHINGTON, OREGON AND ARIZONA.
Average item review
(474)

Received these a few months ago as dormant sticks and they're all doing well in my native plant garden. Already blooming this year with lots of leaves!
4 days ago by Jennybeth28

These arrived healthy and with red color already on the leaves. So far they are doing very well. I'm looking forward to seeing them all grown up!
4 days ago by Teresa Nix

They are still alive.. looked great.. great packaging
5 days ago by Dawnita

They were very small.. doing good so far
6 days ago by cheryldambacher

6 days ago by Natalie Garvey

Plants were well packed and healthy on arrival. All 4 are now putting out new leaves in my yard.
7 days ago by Clarignet

Received these 3 weeks ago, little did I know our temps would go into the mid to upper 90's right after I planted them. One good tip was to be sure and mulch around the plants when you plant them, keeps the moisture in! After 3 weeks, the plants are doing great! It looks like maybe one or two may not make it but the rest are doing great, I've been babying them with the hot weather but only watering them every two days. The plants arrived healthy and I planted them the same day they arrived. These are for a ground cover about 35 x 8 feet in size. After only 3 weeks, many of the plants are already sending out runners and spreading out. I tilled in nitrogen into the soil about 6" deep. Well drained soil is a must for these to get started, very happy with the results so far!
Jun 10, 2018 by Carl

I did have a terrible time getting my correct Order as I placed two separate orders on separate days which apparently Caused a whole lot of Confusion ! It's been a month and just got my compete, correct trees! I am satisfied with the products and hope to See Many years of blooms , but in future will only Place one order at a time ! This was Way over stressful!
Jun 10, 2018 by Ann Sturtevant

Plants look healthy and doing great!
Jun 9, 2018 by Meredith Daley

Plants look healthy and doing great!
Jun 9, 2018 by Meredith Daley