zqhandcrafts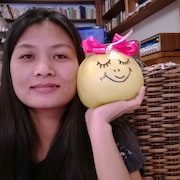 Sorry we don't have anything like that.
About
I Love to Crocheted And Knitting....
My assistant is my daughter zouzou She's my model. My shop is registered in November 2011, but since I do not have time to properly take care of it is not came to be normal business I am very sorry.
However, beginning in this June 2017 it has been came to normal business.
The shop Products are homemade and designed by me , all the product are elaborate made , hope you like it. I'm not a good salesman. if my shop don't have the product you looking for please contact me and let me know what are you need, I will try to do my best。

Thank you again !
Shop members


What a bargain and fast shipping as well. Thank you for your prompt service.
Jul 3, 2018 by Kathey

Jun 18, 2018 by Jessica Yasitis

I am "so happy" with my new set of needles! They are gorgeous. I'm shocked that it was so affordable. Thank you for quickly responding to questions & providing shipping information.
Jun 5, 2018 by Joyce Stubee

Thank you so much for the quick ship and the cutest bunny buttons!
May 17, 2018 by Michelle Tabb


There was a minor communication issue. Per a conversation with the seller, part of that was due to an issue with a feature of Etsy's site. Something similar happened with another seller. Once that was solved, shipping was quick. The crochet hooks were packed well. I tested one, and it feels comfortable. I like that the size is stamped on them in a spot that shouldn't rub off quickly. The only negative (a minor one) for the hook I tried was that there was a bit of a rough spot around the neck, that caught the yarn as I stitched. I was able to resolve it with a nail file. It was not a significant issue, & easily resolved. Bottom line: I would purchase from this seller again. :-)
Mar 20, 2018 by Amy Unverzagt


Beautiful and good quality. Exactly what I needed for my project.
Feb 28, 2018 by Mars Walters

Feb 16, 2018 by Jessica Buckley

Love the coated steel cable on these needles. Also, the needle is great to use, no slippage of my yarn off the needle yet the yarn slides easily while knitting.
Feb 13, 2018 by 1daveandpat